Designers at DOLCE & GABBANA have used technological evolution to develop authentic, tactile fabrics that bring the look of virtual reality into the physical world. Artificial colors, fake textures and digital enhancements, a kaleidoscope of high-tech materials, vegan things transformed with plastic. Everyone has a jacket or coat with leopard print on the inside. Even US Vice President Kamala Harris owns one and wears it on inauguration day. So this yellow printed leopard jacket shows the faux yellow leopard print on the outside, applied to the leather and applied through a new technical approach. And two fashion stars, Alonzo Arnold and Remy Ma, were both spotted in the same DOLCE & GABBANA look, bringing us double the style and fashion fun. Let's see how they designed the leopard suit.
The look's edgy yet feminine silhouette and bold print and color choices exude confidence.
Look 1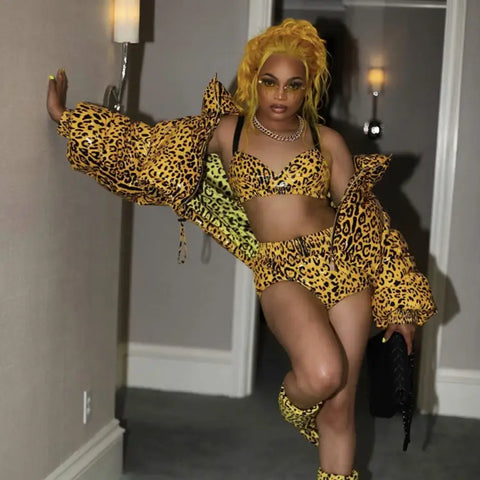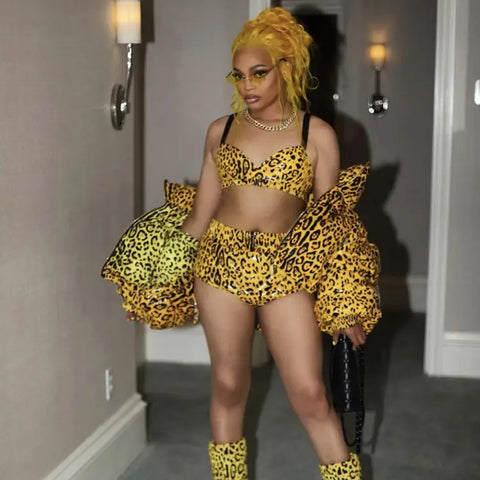 Alonzo Arnold wears the DOLCE & GABBANA yellow leopard print look with the matching yellow leopard print bikini set and knee-high boots. Alonzo also adorned the look with yellow sheer sunglasses, a minimalist metal necklace, and a black quilted tote bag, further adding to the yellow aesthetic of the look, and the stylist used a wavy updo of the same color for the featured haircut.
Look 2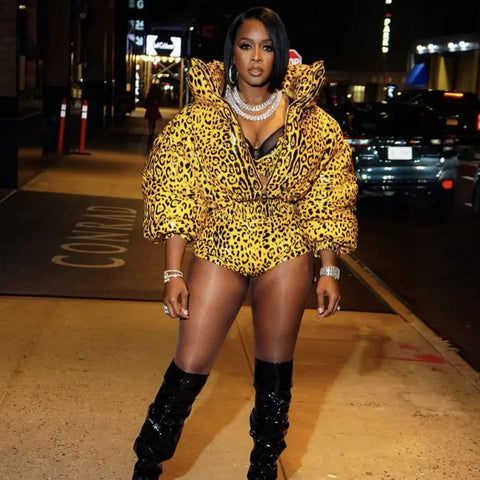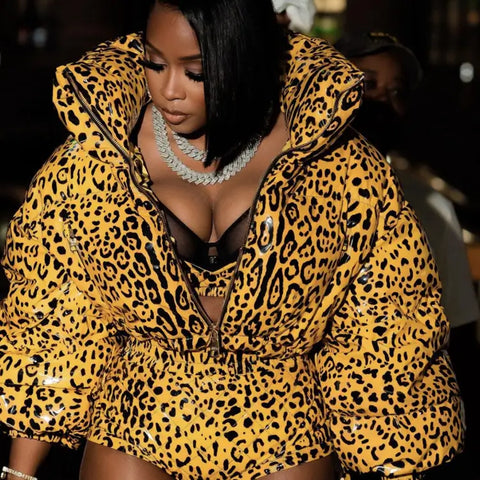 Remy Ma wore a yellow leopard-print puffer jacket with another black bra. She also wore black patent-leather knee-high boots, pairing the animal-print down jacket perfectly with a black short bob.
Look 3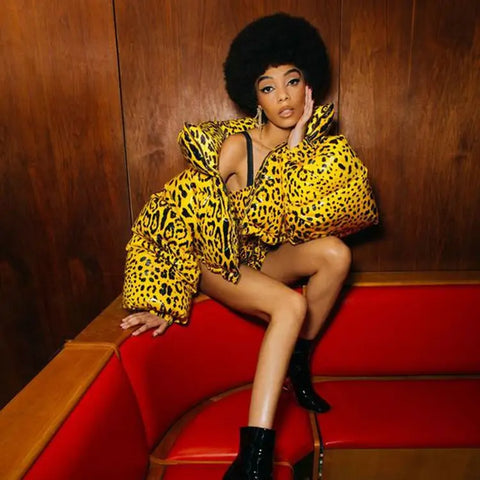 When fashion is an attitude, outfit matching is one of the best ways to express yourself, to express your expectations for the future and your unique personality. The yellow leopard print shape with an afros fully demonstrates the trendy charm, combining exaggeration and laziness ingeniously, showing the attitude of modern young people in pursuit of individuality and freedom. A pair of black high-heeled leather ankle boots creates a comfortable and aura of wear.
Look 4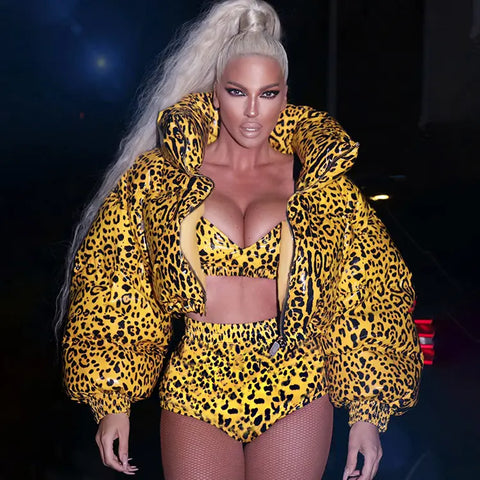 Use a silver-grey high ponytail and delicate makeup with a chic leopard print suit to easily create an avant-garde outfit that shows a casual and unique style. The addition of perspective fishnet socks adds a bright spot, which is sexy and at the same time pays attention to the sense of strength, showing the wild temperament of women.
If you are interested in more leopard print looks, stay tuned to WELENY!