Size Guide
General size chart
Women's clothing size comparison in various countries

The size comparison of women's trousers in various countries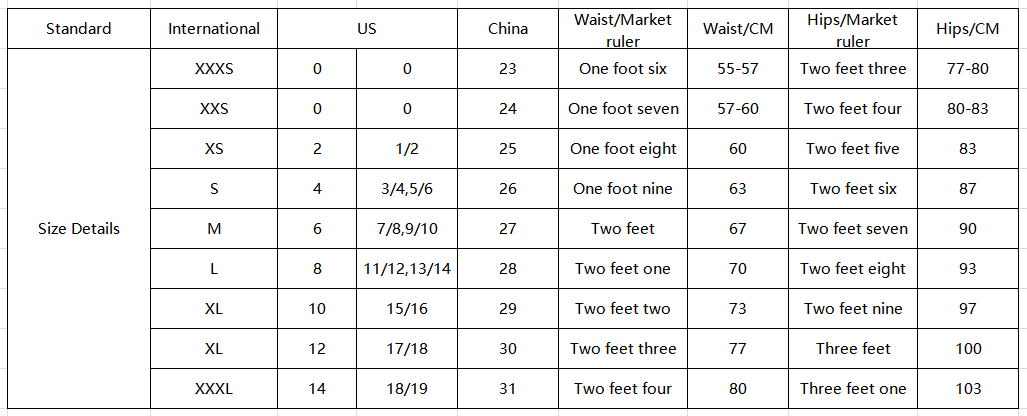 1. How do you know the size of this dress?
Just click the "Size Chart" button on each product, and you can see the size of the garment in cm and inches, and how to measure it to make sure it fits perfectly.
2. How can I measure my body to confirm the suitability of the clothes?
 1) Bust
  Relax your arms at your sides and wear a non-padded bra to ensure accuracy; place the tape measure under your armpit, parallel to the floor, and wrap the measuring tape around the fullest part of your chest and pull it across the entire bust. Note that this is not your bra size.
 2) Waist circumference
  It is measured at the smallest part of the waist, usually above the ribs and below the hip bone, which is about 1 inch above the belly button. Keep the measuring tape loosened slightly to allow breathing space.
 3) Length of clothes
  Measure vertically downward from the cervical vertebrae point to the bottom of the clothes, and measure a larger distance vertically from the base point of the head.
 4) Pants length
  Measure the distance from the waist opening at the thinnest part of the waist on the hip to the bottom of the trousers.
 5) Waist circumference
  Measure around the thinnest part of the waist at the upper edge of the trouser belt.
 6) Hips
  Stand with your feet close together, and measure around the fullest part of your buttocks. Measure the whole part of your buttocks, keeping the tape measure parallel to the ground.
3. What should I do if I am still not sure what size I want to wear after measuring and checking the size chart?
You can contact us by email at any time, attach any questions you have about the size, and we have a professional customer service team to answer your questions at any time.