Hello everyone! Halloween is just around the corner. We love the festival as much as we love parties. When it comes to Halloween parties, it is important to wear costumes that will make you stand out from the crowd. So it is finally time to start planning your outfit and make the right decision. But how do we dress ourselves up for Halloween? Whether you are throwing a party or just spending a laid-back evening with friends, here is your inspiration to keep you satisfied. We have put together a list of surprising outfits for the upcoming Halloween. If you are looking for tips on how to dress up for Halloween, keep reading this article.

 
1.Spider Web
The design of the spider web exudes an old-fashioned atmosphere, adding a different charm to wearing it on Halloween, as if you are in a mysterious castle.
2.Skull
The skull does not represent terror, but more like a mascot, implying death and rebirth, strength and equality, and has become a culture and totem. The design elements with skulls in the Halloween costumes are not only not scary, but have an indescribable sense of humor and joy, which will make the costumes stand out. It represents a confident and open-minded attitude towards life, which coincides with the horror and carnival Halloween night.
3.Pumpkin
The jack-o-lantern is the symbol of Halloween. On Halloween, some disguised children will visit the neighborhood with jack-o-lanterns and shout "Trick or treat" to the adults who open the door. If no candy is given, a little prank is played on the family.
4.Skeleton
Celebrate Day of the Dead and Halloween with a creepy skeletal print design that will make you look unique and give your party a spooky Halloween vibe.
5.Ripped
The world of fashion is always unpredictable and we are always looking for unique clothing ideas that are both comfortable and exclusive. No wonder, shabby and distressed clothes, are the new obsession.
6.Leather
If you are following the latest fashion trends, then you definitely know the popularity of goth style. The goth fashion style, considered dark, gloomy and a little scary, is taking over the fashion market as well as street fashion. More and more celebrities are discovering that goth inspiration is the right choice to change their looks and outfits. Plus, just in time for the festive season, there is no better option than leather. Inspired by the Victorian era, with a dose of punk and rock.
7.Witch Costume
Halloween is the perfect time for adults to get creative and show off their unique style. You can dress up your goth character in many different outfits. You do not have to wear spooky or scary costumes all the time, it is okay to be an old-fashioned vampire or witch. The witch is not only related to the origin of Halloween, but is also a popular Halloween masquerade look today.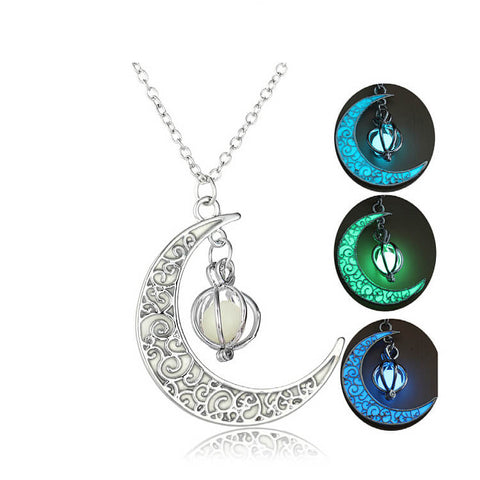 Tip: How about wearing this sparkling moon necklace on a dark Halloween midnight? This necklace is exquisitely designed, a little cute, full of small bright diamonds, and it will looming in the dim street lights. Wear it on Halloween night and it will definitely make you the center of attention.
Can't wait for that night to arrive? Very much looking forward to your Halloween outfits.